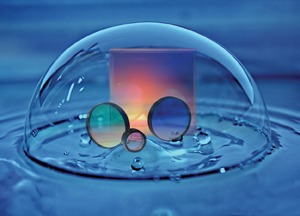 IRIDIAN provides optical thin film solutions and coating services to a wide variety of industrial and research sectors. The company is a leading global supplier for applications in telecommunications, spectroscopy (Raman, fluorescence, flow cytometry) and the entertainment industry (filter wheels, glasses for 3D cinema). Our optical filters and coatings offer the highest levels of performance and durability at competitive prices.
IRIDIAN covers the spectrum from prototype development to volume production.
You can search for a particular type of filter according to the Application Areas it might be used for or by Products type. Please check out the Resources section for further filter information. Iridian Spectral Technologies develops thin film optical filters and associated optical components for a wide variety of applications.  Iridian's highly advanced, proprietary thin-film technology is used in telecommunications products, spectroscopic instrumentation and lasers, as well as being applied to other applications in biophotonics, micro-optics and aerospace.  Iridian often works closely with its customers from the early stage of their product's development in order to ensure that the most cost effective optical solutions are found.
The company has developed a high degree of automation in order to ensure high quality and low cost products. It has an unparalleled capability to produce both high volume commodity filters and custom thin film optical filters.
Two technologies give Iridian a unique edge in the manufacture of thin film optical components:
Spectrum@IST: Iridian' thin film filter design and deposition process control software, provides exceptional design flexibility.
Scan@IST: Iridian's optical characterization and filter processing technology ensures accurate and fast evaluation combined with automated pick and place.
Company Fast Facts
Focus:
Optical thin film filters and dielectric coatings from UV to LWIR
Specializations:
Telecom, Raman, Fluorescence filters and Specialty filters
Founded:
Headquarters: